Deretan Pemenang Popbela Beauty Awards 2023, Brand Lokal Berjaya!
Selalu menginspirasi, Cinta Laura berhasil membawa piala di kategori 'Inspiring Figure of the Year'
3 Juni 2023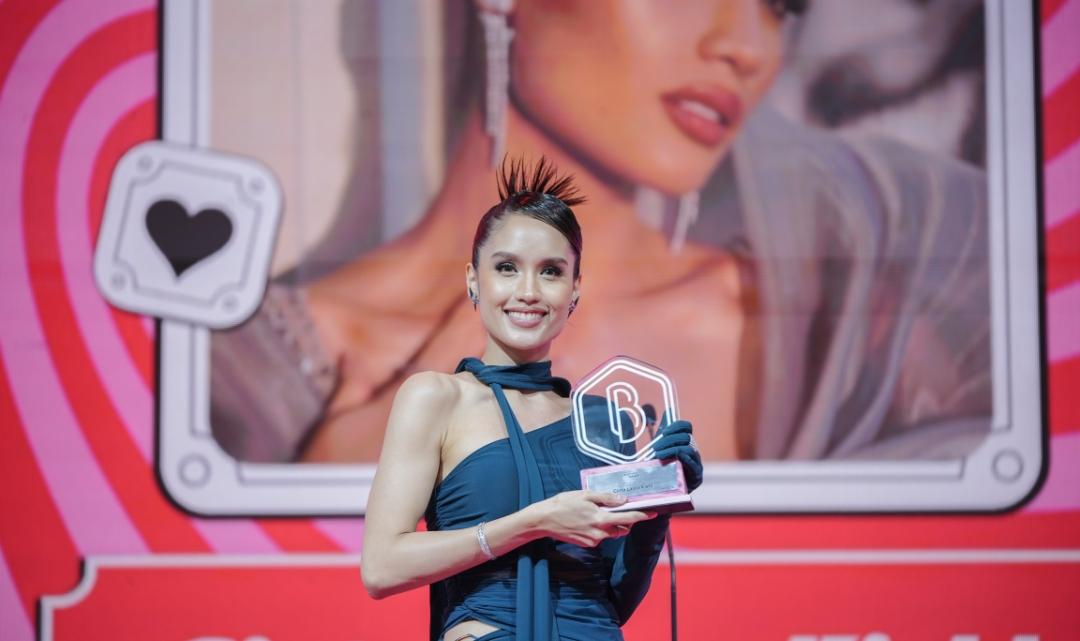 Dok. IDN Media
Pencinta kosmetik merapat, iStyle.id BeautyFest Asia (BFA) 2023 resmi digelar selama 3 hari pada 2-4 Juni 2023 di The Ritz-Carlton, Jakarta. Acara yang diselenggarakan oleh Popbela.com ini mengusung tema carnival yang fresh dan fun.
Dalam rangka menutup acara di hari pertama, terdapat sesi Popbela Beauty Awards 2023 dengan tujuan memberikan apresiasi kepada brand kosmetik lokal maupun internasional.
Tak hanya itu, sesi ini juga turut mengundang sejumlah selebriti perempuan yang berhasil membawa piala kemenangan. Lantas, ada siapa saja ya pemenangnya? Berikut Popmama.com siap telah merangkum deretan pemenang Popbela Beauty Awards 2023.
1. Daftar pemenang kategori skincare di Popbela Beauty Awards 2023
Best Acne Product: YOU AcnePlus Triple Action Spot Care
Best Anti Aging Product: Tavi 1% Retinol + Peptide Slow Aging Sign Serum
Best Beauty Supplements: Natur-E Advanced Soft Capsule
Best Body Care Product: Vaseline Gluta-Hya Overnight Radiance Repair
Best Cleansing Product: Bioderma Sensibio H2O
Best Eye Cream: L'Oréal Paris Triple Roller 2.5% Hyaluron + Caffeine Eye Serum
Best Face Mask: Skintific Mugwort Acne Clay Stick
Best Face Serum: La Roche Posay Hyalu B5 Serum
Best Facial Wash: NPURE Noni Probiotics Cleanse Me Softly Hypoallergenic Gel Cleanser
Best Fragrance: Lancôme Idole Eau De Parfum
Best Hair Product: PANTENE Miracle Conditioner Biotin Strength
Best Moisturizer: Somethinc Calm Down! Skinpair R-Cover Cream
Best Packaging: ESQA x Barbie "Make Waves Eyeshadow Palette
Best Sunscreen: Implora Perfect Shield Sunscreen
2. Daftar pemenang kategori makeup di Popbela Beauty Awards 2023
Best Base/Foundation: Make Over Powerstay 24H Weightless Liquid Foundation
Best Beauty Tools: Mad For Makeup Kok Lentik Ultra Lift Comb Curler
Best Blush: Barenbliss Spark-Tacular Party Blush
Best Brow Product: Instaperfect Browflash 3-in-1 Brow Perfector
Best Concealer: Rosé All Day The Realest Lightweight Concealer
Best Eyeliner: Luxcrime Retractable Eyeliner Gel
Best Eyeshadow: Wardah Colorfit Quad Eye Palette
Best Highlighter: BLP Face Glow - Sunnies
Best Lip Color: Make Over Powerstay Transferproof Matte Lip Cream Limited Euphoria Edition
Best Mascara: Rosé All Day Thunder Lash Mascara
3. Daftar pemenang kategori konten kreator di Popbela Beauty Awards 2023
Breakout Creator of the Year: Ananza Prili
Makeup Artist of the Year: Archangela Chelsea
Hairstylist of the Year: Kim Mefta
Model of the Year: Ayu Gani
Inspiring Figure of the Year: Cinta Laura
Berhasil membawa piala penghargaan, Cinta Laura pun memberikan ucapan terima kasih sekaligus kata-kata penyemangat bagi para perempuan di luar sana. Menurutnya, menjadi sosok perempuan yang cantik, hebat, dan bernilai di mata orang lain itu tidak batasnya.
Itu sebabnya, kita sebagai perempuan janganlah ragu memanfaatkan setiap kesempatan untuk berkembang. Tidak ada kata terlambat untuk belajar dalam meraih hal baru.
"Perempuan di negara kita takut bertambah usia, itu berarti kita harus mau memanfaatkan setiap kesempatan yang ada. Nggak ada kata terlambat atau 'kadarluasa' untuk kecantikan, kehebatan, dan nilai-nilai posituf lainnya. Hanya kita yang bisa menilai diri kita. Kalau kita worth it dan memiliki potensi yang tak terbatas, kita pasti bisa menjadi perempuan hebat yang membanggakan negeri sendiri," kata Cinta Laura dalam speech-nya di sesi Popela Beauty Awards 2023, Jumat (2/6/2023).
Nah, jadi itu dia deretan pemenang Popbela Beauty Awards 2023. Kira-kira ada brand atau content creator andalan mama nggak, nih? Selamat ya untuk para pemenang!
Baca juga: